---
Every project is special, just like a person! And like people, just because something is unique, that does not mean it does not include similarities to others. By recognizing commonalities in different scenarios, we can be efficient and get better/faster results.
Applying Standardization to Test
An area to apply standardization is in the design of your test equipment, particularly in the case of high-mix manufacturing. By standing back and looking at each unique product, patterns emerge. These patterns can then be translated into a common core test platform or a universal test station (UTS).
Who Wants to be Common?
Manufacturing is composed of countless moving parts. It is the one place where redundancy is not necessarily negative. Whatever can be reused and repeated offers simplicity, adaptability, and capability.
By grouping together common features, a UTS delivers flexibility that can never be achieved with a single solution station. Investing in the proper design of a test station core allows major reuse of expensive equipment and carries across a corporation from design to repair. By using less expensive product-specific fixtures in conjunction with a thorough UTS, a system becomes the swiss army knife of test platforms. Apply it on any product variation.
Investing in the Right Solution.
The right UTS will not likely be cheap. A good core will include all the expensive parts plus the initial non-recurring engineering (NRE) time. This is on purpose. The idea here is that it is better to only buy this equipment once (or however many times needed, depending on the manufacturing volume). From then on, any future investment will be made in the much less expensive fixtures. Again, these fixtures accommodate all the unique requirements of each product type. This allows you to reuse the expensive core repeatedly and save potentially hundreds of thousands down the road.
Is a Common Test Platform the Right Path?
Not every test setup is a fit for a UTS. It is important to understand the manufacturing requirements in advance, along with a solid grasp of the technology. Overlap is required in both to make it worthwhile. For example:
Scenario 1:
One manufacturer has 2 products, A & B. Product A requires a throughput of 140% and Product B requires 120%. As a result, each product would require 2 stand-alone stations as buying 20% of a system is not an option. By investing in dedicated test stations, they would have to spend $250,000 per system plus 4 fixtures at $15K each. This comes out to a well over million-dollar investment plus 4 units of floor space. Instead, what they can choose to do is invest more in a generic core at $300K for 3 stations, plus 2 fixtures for product A and 2 fixtures for Product B, priced at 20K per fixture. As a result, they will spend $980,000, saving 7.5% of the initial purchase price and only occupy 3 units of floor space. Additionally, every follow up purchase down the road is set at 20K.
Dedicated Station
Common Core Platform
Initial Cost
4 Stations
1 System
$ 1,060,000
$ 980,000
Future Investment
Per Station
Per Station
$ 265,000
$ 20,000
Scenario 2:
A manufacturer has a major shift in the demand for their product. One of their products is being phased out while another had grown by 100%. Luckily, they had originally bought a common core test platform. Now, instead of reinvesting in a dedicated test station to accommodate the increase, they can simply purchase an additional fixture for the growing product and leverage the station from the discontinued one. The fixture design will be readily available with their test partner, making this a fast and easy way to accommodate a major change. And by the way, they will save over 10 times what they would have spent on a stand-alone station and add 0 machinery to the floor.
Dedicated Station
Common Core Platform
Initial Cost
1 Station
1 Fixture
~$ 150,000
~$ 15,000
Future Investment
Per Station
Per Fixture
~$ 150,000
~$ 15,000
Scenario 3:
A repair center is the perfect candidate for a UTS. Typically, one test station is required for each product type. Depending on the manufacturing variety which will only grow over time, this is substantial. This equipment needs to be usable for long periods of time to be able to properly service the clientele but is only used less than 10% of the time. By investing in several test cores, future investments will be limited to less expensive fixtures. Over a 20-year period and multiple product iterations, it only makes sense to make the equipment as reusable as possible.
Dedicated Station
Common Core Platform
Initial Cost
1 Station
1 System
~$ 125,000
~$ 200,000
Future Investment
Per Station
Per Fixture
~$ 125,000
~$ 25,000
It is always a worthwhile exercise to conduct a feasibility study for future test endeavors. Designing a UTS is no different. Find out if a common core test station is right for your company!
You may also be interested in…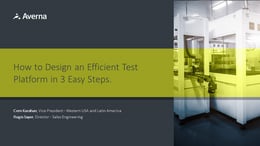 Saving money is only the beginning of the advantages that come with a UTS. Download our webinar to find out more!
Get in touch with our experts or navigate through our resource center.