A quick look at the fundamentals
---
How much do you really know about circuit breaker testing? With so many moving parts it takes a variety of engineering specialties including mechanical, electrical, software and more. Here are 9 tests that should never be overlooked:
For any questions regarding circuit breaker, please contact Averna.
You may also be interested in…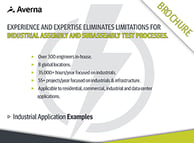 Looking to release another power product? Don't leave test as an afterthought, get in there at the beginning! We can help.
Get in touch with our experts or navigate through our resource center.