How to Test Electric Vehicle Motors
---
To properly validate EV motor performance of every manufactured motor on the line, the following must be considered:
Angle phasing

Resolver positioning

Full torque performance

Full power performance

Full speed performance
These tests not only need to run, but run at extreme levels. How can this be achieved reliably and safely? With a fully automated test solution that leverages a strong battery simulator.
For questions on EV test, from motors to power electronics to batteries, please contact Averna.
Looking to test EV power components?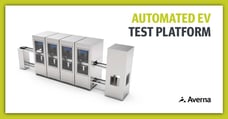 Averna's EOL test platform maximizes reusability and delivers top results.
Get in touch with our experts or navigate through our resource center.