---
With the demand for EV growing exponentially and the technology improving just as quickly, the benefits of reuse show themselves in the most unlikely of places. Quality is what sets a brand apart, but producing it sustainably is what delivers success. A scalable flexible platform is a simple solution to maximize hardware reuse, minimize operator intervention and promote standardization across equipment and departments.
For questions on Averna's EV End-of-Line Test Platform, please contact Averna.
Want to know more about EV testing?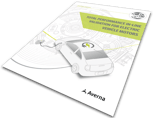 Read our case study to see what our EV motor station can deliver!
Get in touch with our experts or navigate through our resource center.