Is it time to upgrade your old test equipment?
---
Test solutions can come in many shapes and sizes. It is important to step back to find the right approach. Sometimes, a new test solution isn't the right answer. Will an upgrade solve all your test challenges?
For assistance in finding the right test strategy for your company, please contact Averna.
You may also be interested in…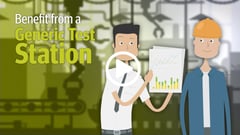 A common core test station is the most flexible and efficient test solution for every industry. Learn how to save time, cost and energy by investing in a generic platform for the entire product lifecycle.
Get in touch with our experts or navigate through our resource center.