---
As expected, the Internet of Things (IoT) continues to explode. It's the backbone of progress, bringing countless advantages to the home, workplace, factory, doctor's office and more and more and more. With the increase in interest and demand to connect the Things, it's clear the reliance on that connection grows with it. By making life easier, it also imposes the very real dependence people develop. When is the last time someone said, "I have to do some research, I better get to the library!"? If we take Google away…will people still know what to do? Maybe yes and maybe no, but at the end of the day, as we continue to connect more things, it simply emphasises how important it is to have a connection we can rely on.
How to Connect
The great news is that there are plenty of different technologies being leveraged in IoT such as Bluetooth, WIFI, Zigbee, and 5G. The list goes on and on and, of course, each technology comes with its ups and downs. Choosing the right way to connect the Things is extremely reliant on the application itself and can't be swapped on a whim. The common thread within the short list provided above is that those are all wireless forms of communication. Wireless mediums are an obvious practical choice to get connected, but lately DOCSIS has been playing an important role in the growth of IoT.
This is why companies are looking more closely at DOCSIS (or EuroDOCSIS in Europe). Data Over Cable Service Interface Specification is an international standard that transfers high-bandwidth information to existing cable systems. It was originally released in 1997 by CableLabs with the support of all the major players in cable. Today, the protocol has been updated to version 3.1 (with 4.0 just around the corner) allowing users to benefit from a better experience through their cable modem.
What makes it better and more specifically, why would companies, cities and people consider a cabled medium over wireless to connect their Things?
Reason #1 – DOCSIS Has You Covered
DOCSIS is already an internationally established protocol being used by cable providers. With the infrastructure already in place, DOCSIS is a simple technology to build on with such an expansive reach with cable networks that even the tallest cellular tower can't infiltrate. For example, if we consider Smart Cities with Intelligent Traffic Systems, the leg work is already done.
Reason #2 – Reliable Service and High Speeds
When the connection's connected, what else is there to say? The risk of blind spots, bad coverage, the environment, etc., simply don't exist with a good cable modem. One is never caught off guard with a 'dropped' this, or 'cutting' that…it's cabled, it's secure, and it's fast.
Reason #3 – Low Latency
If it takes a while for a webpage to load or if something that's streaming is constantly buffering, that is caused by latency. Latency is the amount of time it takes for information to be sent out (a request for a webpage to load, for example) followed by the time to accept the request and send back a response (the page coming up). If latency is high, it causes lag. Everyone hates waiting for anything and the impatience is real. If you are a gamer, high latency is the WORST. With the release of Low Latency DOCSIS 3.1 (LLD) developed by CableLabs and integrated into the DOCSIS specs, OEMs are beginning to integrate LLD features into their software updates for cable modem termination systems (CMTS) and cable modems (CM). According to CableLabs, the difference in speed can be represented by the following table:

Source – https://www.cablelabs.com/technologies/low-latency-docsis
Milliseconds may be almost imperceptible if we are talking about one, but we're not. Data that goes back and forth is sent in "Packets". A request will consist of many of these packets at the same time. The delay adds up per packet so all of a sudden, 10 seconds have passed, and the webpage still hasn't loaded.
To take those 10 seconds and wait for a webpage is frustrating enough. Applying lag to everyday applications in a connected home, vehicle or Thing simply gets in the way. When you consider the amount of data that will be transferred between devices is only going to keep growing exponentially from here on out, keeping latency under control is paramount.
With LLD being rolled out, it's more important than ever to ensure the quality of the equipment. With the constant and significant growth of data being sent everywhere at all times, the reliance on a solid backbone is more crucial than it has ever been before and it is nowhere near as big as it is about to get. DOCSIS is the protocol any Thing can count on, keeping its dependents safe and happy.
To learn more about DOCSIS 3.1 and DOCSIS Testing, please contact Averna.
Want to Learn More about DOCSIS?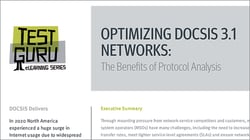 The benefits of protocol analysis have a huge impact on the optimization of DOCSIS 3.1. Read our whitepaper to see how service providers have been providing their customers the best cable experience.