Four Trends we Wouldn't have Predicted Four Years Ago

---
Four years ago, it would have been unlikely to guess what consumers' shopping habits would end up becoming in 2022 and beyond. The impact of COVID-19 has massively changed mankind's tech priorities and electronics are a big part of that. So what are people looking for these days?
Embracing Wearables and Remote Health Monitoring
With hospitals being overrun with patients and social distancing firmly in place, doctor visits are being kept to a minimum. The risk of exposure and the lack of resources forced the world to get comfortable with remote healthcare. For some, a video call is sufficient to cover the basics of wellness but anyone with issues that require monitoring needed to start doing it independently.
Unfortunately, in that time these people did not become doctors, making the data more challenging to understand. Remote patient monitoring devices use biosensors to track physiological data that then gets transferred to a doctor. This information can include glucose levels, blood pressure, respiration and so on.
Wearable patient monitors like Empatica's EmbracePlus are not only focusing on metrics but also on style. This is important as they are often the most effective with a consistent stream of data. In the case of the EmbracePlus, it even includes a charging cover, so it never needs to be taken off.
It is predicted by the year 2026 the sales of remote monitors will grow to nearly 4.9 billion from 1.3B (2019) and even more impressive, wearable biosensors will land at nearly 19B from 9B in those same five years. This is a trend that is here to stay.
AR, VR, and MR as part of the Daily Routine
Courtesy of the pandemic, everyone collectively began hoping to change the reality that had become life. Luckily, they could! At the beginning of the pandemic, gaming consoles were impossible to get your hands on, but that is very 2020 thinking. Moving forward, virtual, augmented, and mixed reality technologies are all over everything. With the goal of minimizing actual interaction, gaming, shopping, communicating and more are leveraging VR/AR/MR to give the user an experience.
Devices and services will be fully equipped to immerse the user where they need to be and are often more effective than the real thing. For example, imagine shopping for new furniture, but not sure how it will look at home? By doing it online, with a hint of augmented reality, you can see what it will look like in its place and then make your decision. This is one example, but there are hundreds. By next year, the number of AR/VR/MR users is expected to grow up to 110 million users in the United States alone.
RFID for the Whole Supply Chain
Even before COVID-19, track and trace technologies were being widely used across a variety of industries via Radio Frequency Identification (RFID) and barcoding. RFID is on the rise as a thorough technology that will detect and track the information affecting your supply chain. Today, a major retailer may include RFID tags with the products on their shelves. These tags will track inventory levels, both when product arrives and when it is sold.
Processes can be automated to reorder stock when inventory hits certain levels. Those new products will get shipped and traced with those same tags. As the technology improves and becomes more affordable, companies already using RFID for supply chain management will continue to expand while newer companies implement it.
The margin of error in using a track and trace solution is so small that Europe has made these solutions mandatory for the distribution of pharmaceuticals. The medical industry is in fact predicting a compound annual growth rate (CAGR) of over 14% from 2019 into 2027. This includes both barcode technology and RFID, however, if you compare the two, back in 2019 barcode was worth about 1.2 billion dollars a year whereas RFID was just under 847 million. This year barcode technology is estimated to be at 1.75 billion and RFID at almost 1.3B. The accelerating growth rate is undeniable. This is due to the labor reduction, the complete accuracy of results and its affordability.
Portable Devices, Back on the Rise
2020 was also the year responsible for sales dropping off for certain devices as well. Tablets, cellphones, and other smart devices had seen their first significant drop in sales in years. Retail outlets had shutdown and the urgent demand was focused on computers and accessories to accommodate working from home.
A year later, numbers seem to have shifted back to pre-COVID conditions. While sales of computers continue to grow, it is not with the urgency of necessity. Consumers are turning back to smaller, portable devices for convenience and fun, 50% of which is attributed to phones (including landlines). The shift was a temporary accommodation for an emergency situation. By 2025, the global consumer electronics market is expected to grow by 100 billion dollars more.
The one thing all these trends have in common is that they have been affected as a result of COVID-19. The motivation do things independently, efficiently and remotely is the overlying theme of things to come. Distance is growing more convenient every day.
For questions on consumer electronics development and remote manufacturing, please contact Averna.
You may also be interested in…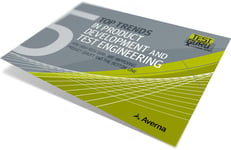 Looking for better ways to develop your next project? Check out our eBook for some new tricks!
Get in touch with our experts or navigate through our resource center.