Time for Lights Out

---
Automation is without a doubt the hottest commodity available for manufacturing today. There are dozens of related tools, names, acronyms, and theories all centered around it and how to maximize its benefits. Thus begins the dream of lights out manufacturing, meaning no lights are required because there is no one in the building. This is the birth of hyperautomation.
What is Hyperautomation?
To put it in extreme layman's terms…it's all the automation. Hyperautomation prioritizes automating every aspect of business processing through digital transformation with multiple technologies like (but not limited to) Robotic Process Automation (RPA), machine vision, of fabric computing and process mining. The ultimate goal is to develop a firm trust in machine learning, allowing the systems themselves to drive decision-making for fully automated operations.
The root of hyperautomation is to simplify automation processes enough to reduce manufacturing and operation challenges and just let it run. It is not necessarily for every company, particularly those who deliver very customized solutions. That said, if it is a fit it can pay off in spades, but be prepared for the road ahead.
What are some Challenges Facing Hyperautomation?
1. Change Implementation:
Hyperautomation doesn't happen overnight and requires massive changes. Choosing the right equipment and software are a huge part of the success to building a total 'lights out' facility, but they are not necessarily the key to its implementation. There are two major considerations in the success of such an undertaking. The first change that needs to go down must happen to the mindset of the overall organization and individuals they affect. Suddenly, processes that have become second nature are receiving an extreme makeover and are unrecognizable.
This is more than a little botox. This is a complete cultural change to an institution, and they will come fast. Mistakes will be made, and there needs to be room for trial and error. That means people need to keep an open mind and be ready to adapt. Change is always scary, particularly if you think your job is at risk. Prepare employees to expect hiccups while promoting the end goal. Setting clear expectations, including their role in it will build buy-in. Bringing in outside consultants will also help older teams adapt to new ways through the experiences they've had.
2. Data Management:
Once the roll out begins, everything needs to connect and work fluidly. This is easier said than done when managing often-siloed processes. This alone reduces the effectiveness of the initiative and starts things off on the right foot. To avoid this, data fabric must be introduced and deployed. This is a common analytics code running across all platforms and applications to understand and organize the data in use. This opens up the availability of the data to whomever needs it, including other smart systems, and gets the job done better. Based on data alone, this fabric can determine and recommend scenarios appealing to a company as a whole. According to Gartner, data fabric deployments will quadruple its efficiency by 2024 and reduce manual data management by 50%.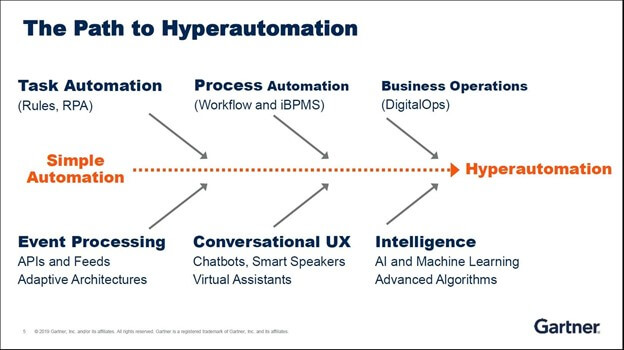 Automation and Beyond
All the benefits of automation apply to hyperautomation, but you know, hyper. By automating one thing, it becomes more reliable, independent, repeatable, and predictable.
Applying this concept to an entire corporation not only provides the same results but opens the door to incredible machine learning opportunities.
Machine learning and AI are the secret ninjas that will catch all the details a human can miss. They will not only find patterns, but they will action them. Having the detective, the CSI team, the lawyers and the judge in supremely organized code is the gift that keeps on giving.
Implementing hyperautomation is certainly a long game that requires commitment, patience, and adaptability but it is worth the endeavor to future-proof your brand.
To find out if hyperautomation is a fit for your test processes, please contact Averna.
Curious about automation?
See how automating test for distribution boards provided our customer with better products in a safer environment.
Get in touch with our experts or navigate through our resource center.