---
Do you ever get hungry thinking about vision inspection? That's normal. The food and beverage industry is a pioneer in integrating machine vision into their production lines. As vision inspection tools continue to improve, it has made its way throughout the entire food chain. As a matter of fact, the food industry has forced part of vision's technological growth as one of the primary equipment buyers.
The Beginning of a Beautiful Friendship
As both industries evolve, vision is performing more and more tasks. Packaging was the primary purpose when it was first introduced to the market. Vision was the most efficient way to 100% track and trace the end-product through the supply chain. This is not only to be super organized but is in fact mandated by the FDA for several segments like produce and meat. Should a quality issue arise in a lot, it is vital to address it quickly. This is how producers can reliably keep track of expiry dates and how your grocery store can warn you about that spinach so quickly.
Additionally, vision has since been applied to other functions like UV cure checks on packages to ensure it's glued correctly, glass container inspection using structured light, and verifications on fill levels or cap checks using backlighting.
Inspect What's on Your Plate
Packaging was how machine vision was first introduced to the industry but has since made its way along the line. Into the line, as a matter of fact. Lately, we have all learned the value of high standards pertaining to hygiene. Of course, everyone washes their hands before sitting down to a meal, but how did that meal end up on the plate in the first place?
The equipment producing the food needs to be completely clear of any foreign substances and clean as a whistle. More and more vision systems are being introduced into food and beverage factories to inspect the system manipulating the product. The right cameras and lighting can easily detect any contaminate, even those invisible to the human eye. This allows any risk to be detected without ever having to be touched by a person.
Protect Your Customers, Protect Your Brand
The consequences of skimping on equipment inspection are astronomical, both for the foodie and the company. Whenever anything is to be consumed by the end-user, dirty equipment is bad enough to think about, but what about allergies? We are talking about serious damage here. This business needs to look out for their customer and for their brand. Nobody wants to eat what will hurt them. Except maybe French Fries.
At the end of the day, vision inspection plays a huge role in looking out for the companies that manufacture food products and those that eat food. That does not exclude a whole lot of people.
For more information on introducing vision inspection into your production line, please contact Averna.
Still hungry?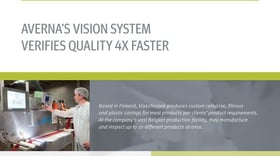 Find out how we supported ViskoTeepak through their transition to vision inspection.
Get in touch with our experts or navigate through our resource center.