---
The day inevitably comes when it is time to buy a new car. This can be a happy, exciting time or being faced purely out of necessity. Either way, we want to get the best experience and the most out of our dollar. So we do our research, narrow down our options and choose. If you get to pick, would you choose an option that costs less and is more practical or spend a little more and have a touchscreen infotainment system with satellite radio, built in navigation, rear cameras, and amazing sound quality? Most people answer the same way... Forget practicality, bring on the cool!
What Really Makes the Difference?
There are so many different motivators to choosing the right car. People buy cars for different lifestyles, on different budgets, in different places around the world. There is the sales guy who drives from city to city and spends half his life in the car. He wants to be comfortable. There is the single mom with 2 jobs trying to make ends meet. She wants fuel efficiency. There is the 21-year-old who just got his first real paycheck…He just wants to show off. Drivers' desires will never all match up, it's impossible, but they all have some common ground. Everybody demands the following when buying their car: it will work the way it's supposed to, it will be safe for them and their passengers and they can afford it. Once these boxes are checked, it's the details that make the difference.
Game Changers
Most people who go to buy a car already have a budget in mind and just want to stay within it. That could be $30,000 or $120,000 but there's a number. They also go in with the understanding that this is a longer-term commitment and what they choose is what they will be using for years to come. Once the buyer is assured the car is reliable and safe, it's the bells and whistles that help them decide which one to choose, as long as it fits within their number. It's those same bells and whistles that will enhance their lifestyle and affect how they feel.
Automotive consumers were well known for their brand loyalty. So much so that people have gotten into the habit of defining someone's entire personality based on the car they drive. Since 2014, each year has shown an increase of the number of people who are willing to change their car manufacturer based only on the connectivity capabilities. This can be attributed to a combination of what features the car has to offer and the stricter laws being put in place to remain hands-free. Infotainment is single-handedly changing the industry.
Infotainment's Role in a Consumer's Decision
A driver's driver (Yes, pun-intended) can be dependent on different things. For example, based on trends, a consumer in Germany is more concerned with data privacy than a consumer in China. That being said, when asked, 76% of people are willing to allow their cars to share their personal data with the manufacturer to improve their overall driving experience. Across the board, all features relating to navigation & mobility can be considered deal-breakers when a buyer is making their decision. Additionally, people have responded to the standard interface of the mobile device they have become used to. This doesn't seem to be a full-on deal-breaker just yet but should not be ignored. Familiarity, compatibility and simplicity of use are getting more and more people to look in a different direction.
So take two cars and put them side by side. Both of them come from reliable manufacturers with great reputations. Both have excellent reviews and have passed all certifications. They get excellent mileage with the same environmental impact and fit a family of 4. They are both gray. One of them has a hands-free voice command navigation system, with an 8" touchscreen and access to satellite radio, traffic, fuel prices and weather. There is wireless charging, a subwoofer with off the chain sound quality and looks just like the device in your pocket. This will only costs $3,000 more than the other car and is within or close to the budget. For the price of the car, it's a small investment to make the everyday commute safer, more practical, and overall cooler.
To make sure your infotainment system is competitive and delivering visit Averna's website.
What You Need to Know About RF Testing.
Get in touch with our experts or navigate through our resource center.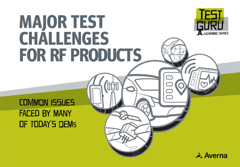 Read our free eBook for an overview of the main challenges to face when testing RF devices.