Learn the steps and apply the right vision technology for your application.
---
AI is what everyone is talking about but may not always be required, so what is the difference between standard vision and vision AI? Here, an artificial intelligence expert describes the steps to successfully execute either one for the appropriate application.

Always remember, one thing remains constant; when dealing with vision or AI, the quality of data must always be prioritized!
For any questions regarding machine vision, please contact Averna.
You may also be interested in…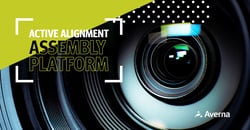 If you are thinking about upgrading to an active alignment system, don't start from scratch. Here's a look at our customizable and flexible platform!
Get in touch with our experts or navigate through our resource center.