Taking your Health into your own Hands

---
The perfect storm of lifestyle changes hit the world and accelerated the demand and the use of portable medical devices. It is an ironic twist of fate that a health pandemic made it much more difficult to seek medical attention. With full and busy hospitals as well as social distancing and sanitation concerns, standard in-person checkups were few and far between.
Luckily by 2020, the medical industry began embracing the Internet, the concept of IoT and wireless communication. Surprisingly, it was a relatively new concept. Not that long ago, there wasn't an affordable and reliable communication solution that also offered the privacy required for healthcare. Now with better off-the-shelf connectivity technologies like Bluetooth Low-Energy (BLE), the development cycle is faster, cheaper, and reliable enough to meet stringent compliance standards.
The everyday person gained the ability to track their own health vitals and connect the results to a health professional directly. With this technology readily available, combined with the idea of leaving the house being less appealing, the sales of portable medical devices have skyrocketed. Truth be told, it is unlikely that there was a massive group excited to go to the doctor to begin with. The pandemic just gave the extra permission people were already looking for.
Portable Medical Devices are Flying off the Shelves
With this freedom comes a range of new devices to use at home and everybody wants them. The more popular devices are:
Ventilators
Portable ventilators allow patients to leave the house or the hospital safely. They were already being used by people with everyday respiratory problems, and heavy smokers. Back in 2020, one of the biggest challenges was having enough ventilators to support the fast-increasing demand. It is no surprise that the overall demand has grown significantly and will continue to do so.
In the United States alone, portable ventilators are needed everywhere:

Distribution of U.S. Portable Ventilator Market in Millions (USD) - Source: Allied Market Research
Continuous Glucose Monitoring (CGM) Systems
Diabetics use portable glucose monitoring systems to measure the glucose levels in their blood throughout the day. A device is inserted into the arm while sensors on a needle monitor what's happening inside the body. The information then connects to a smartphone to keep both the user and their doctor up to date with any changes that happen over time. Not only do these monitors keep consistent results, but it frees the user from having to do a blood test each time.
Diabetes affects everyone and is a growing problem around the world. That is why the popularity (and necessity) for CGMs continues to go up:

CGM Market Projected Growth in Millions (USD) by Age, Worldwide - Source: Allied Market Research
Blood Pressure Monitors
Having high or low blood pressure can be scary. Checking blood pressure has not always been a convenient task. Now with wireless monitors, they are wrapped around a patient's arm throughout the day to consistently track results. If the user is approaching a dangerous level, they are warned and can take action.
With an overall compound annual growth rate (CAGR) of 4.2% by 2026, people are taking their health more seriously:

Blood Pressure Monitor Projected Growth in Millions (USD) by Region - Source: Allied Market Research
Ultrasound Imaging Devices
Doctors aren't necessarily always able to help their patients in the hospital. As a result, more and more portable ultrasound machines are in circulation. They aren't cheap, costing around $50,000 USD for a mid-range model, but they are extremely practical. In exceptional cases (which haven't been too exceptional these days) where going to the hospital is more challenging, the equipment can come to the patient. They are so small and simple to use that patients can even do it themselves, although their diagnostic skills may be questionable.

Portable Ultrasound Devices Projected Growth in Millions (USD) by Region - Source: Allied Market Research
To watch the world take their health more seriously gives an optimistic view. With the industry's innovations in portability along with incredible forward movements in connectivity, people are gladly taking matters into their own hands.
For questions on medical device testing and manufacturing, please contact Averna.
You may also be interested in…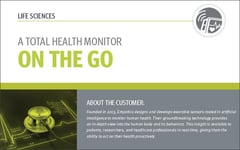 For the ultimate health on the go solution, see how we helped Empatica get their revolutionary EmbracePlus to market faster!
Get in touch with our experts or navigate through our resource center.