A Love Story ❤️

---
Data, data, data…
Over the last ten years, big data has become both the catalyst driving manufacturing innovation and a huge beast to overcome. So, what is causing this love/hate relationship?
What is Big Data?
In the case of manufacturing, big data is large amounts of data coming from different sources (manufacturing assets), very quickly. The amount and the quality of the data is so extensive that regular processing software can't handle it.
This is largely due to the fact that automated industrial machines are incredibly smart and track data in ways that was not properly considered before. Following patterns has become equally as important to the data itself so having this type of knowledge is powerful for a manufacturing facility. You simply need to know what to do with it.
What are the Benefits of Big Data?
Predictability

The value of predictability is often undermined. Good planning leads to success in every aspect of business management. This includes finance, sales, product development, and, of course, manufacturing. The data that is collected from the machines on the manufacturing floor tells many stories.

By analyzing the

quantities

, smart data can predict when products should be scaled up or scaled down, and at what rate.

By analyzing automated test system

results

, smart data can catch bad batches and avoid future recalls. This is key to protect your brand and keep your reputation intact!

By analyzing

patterns

, manufacturing assets show when their own performance is dragging and preventive maintenance should be scheduled.

Each of these examples can individually save a company hundreds of thousands of dollars. How would avoiding an excess of un-sellable inventory, expensive recalls and/or manufacturing shutdowns affect your business?


Better Products

Along with avoiding expensive costs, by working with the data, product performance quickly improves. Smart test data will show which batches will best represent your brand and point to where problems lie. If all products have the same fault, there is likely a design issue. If certain batches perform well while others don't, there may be a supply issue. At the end of the day, this data prevents bad product from leaving the factory and determines the best course of action to repair the problem.


Traceability

How much time is wasted due to missing data? Way too much! Whether it is a question of tracking each component from suppliers or where products have been dispatched, it's long to find. The unfortunate part of this is that generally this type of information is only needed when something has gone wrong. When something isn't needed on a daily/monthly/quarterly basis, it often gets overlooked. So, if there is a problem it becomes a bigger problem. Not only are bad products out there, but fixing the issue is costly and frustrating.


Deeper Insight

Machines can quickly recognize patterns and make calculations beyond human capabilities. At the end of the day, this is what big data all boils down to. When a system is programed to flag anomalies that may be imperceptible to a person, that's when the dirt comes out and when better decisions can be made.
The Dangers of Data
| | | |
| --- | --- | --- |
| The absolute biggest rule of data management is garbage in, garbage out. Once facilities are up and running, most applications can run on autopilot. That said, stations will do exactly what they were programmed to do. That includes which data to collect and how to go about processing it. If that was set up with flaws, that's what's going to come out. | | While systems can run on autopilot, don't neglect them. They may not have feelings, but innovations move quickly. Priorities and/or relevancies may have changed. |
On that note, it is important to highlight the difficulties in the organization of that data. There is just so much! Getting a reliable tool to crunch the data to extract relevant information can be more challenging than one would expect. Do the research and ensure the quantity can be managed and can properly interact with the rest of operations.
Once it is confirmed that systems are working with good data, then the factory can be brought to the next level. Machine learning and AI are the natural next steps when dealing with big data. That takes the decision-making out of the decision makers hands. Smart factories are trusted to make business decisions based on the data they have and the patterns they see. Scary? Maybe. But potentially great with the right information.
Big data delivers big results and belongs in manufacturing. By developing this relationship, companies grow more competitive by reducing costs, improving product quality and delivering exceptional customer service. What more information do you need?
For questions on test data management, please contact Averna.
You may also be interested in…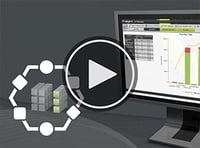 Test data doesn't have to be complicated. Have a look at what industry standard Proligent can do.
Get in touch with our experts or navigate through our resource center.