Welcome to the New World of Product Development

---
At the start of the COVID-19 pandemic it seemed that most people were waiting out the virus so that the world could 'go back to normal'. Two years later it is pretty safe to say that certain ways of doing things are changed forever. Product development and manufacturing are simply two examples of this.
The Old Ways to Manufacture
For many years, companies had decided that offshoring was the way to save money and accelerate production. This did not only apply to mass manufacturing of the end product, but also throughout the critical path of the development cycle. Engineering Validation Test (EVT), Design Validation Test (DVT), and Production Validation Testing (PVT) were commonly executed by an offshore Contract Manufacturer (CM) while heavily supervised by the Original Equipment Manufacturer (OEM).
Explaining the Acronyms – EVT, DVT and PVT
EVT happens early in the process when a prototype is finalized and ready for testing. Fewer than 100 units are built using the actual material that will be used in production. The goal of EVT is to validate all functional requirements are being met. Failures are very common during EVT which is why it is crucial for the engineering team to be present. This information is then taken back to the drawing board to fix the issues. Usually there are several iterations of EVT (EVT-1, EVT-2, EVT-3) to get the product ready for DVT.
The end-goal of DVT is to have a product that is ready for production. Here, the product will undergo exhaustive testing to validate quality, performance, and endurance. Normally 100-200 units will be built and essentially 'tortured' to make sure it meets both OEM's standards and any required compliance regulations.
Finally, PVT is afoot which is considered the first go. It is an initial production run validating that a high-quality product can be manufactured at the aspired volume. The number of units built in this phase is largely based on the intended volume for manufacturing but often hover around 1000 units. This is the last rest stop for any design changes…it's all highway from here.
Manufacturing Now: Offshoring vs Onshoring
With the rise of Industry 4.0 and reliable automation, onshoring was becoming more common even before COVID-19 hit. Keeping business close to home proved to have many advantages, though perhaps not always worth the cost savings in every case.
And then…Boom!
Major travel restrictions were suddenly imposed, quarantine requirements were sanctioned, and supply chains were (and are still) in bad shape. These supposed temporary measures lasted for weeks (months?) and are recurring with every new and unpredictable variant. Visiting a foreign country is no longer simply a matter of catching a flight and there is no way to guarantee the availability of components. Shipments are consistently delayed at ports due to lack of transportation resources. What does all this mean..?
Offshoring is risky.
Make Onshoring Fast & Affordable
The price and capacity of doing business differently can be intimidating or overwhelming. Space and resources were set up to execute a certain plan and this wasn't necessarily it. The obvious step to accommodate onshoring is to open new locations, buy new equipment and hire new people. It's a lot to think about, and not always quick to make a reality but it isn't the only option available. Outsourcing validation as a service takes the stress off your team and transfers the load to a group of experienced engineers and technicians, all ready to ramp up.
When looking for product validation outsourcing options it is important to not only look at the current state of affairs, but to look ahead. This may be a permanent situation and you are ready to plant roots, or you may want to dip your toe in and see how things go. In either case it is important to understand:
What the partner's ramp up time will be.
The volume your partner can manage.
The extent of their capabilities regarding the technology, sourcing, project management and logistics.
The number of locations they have around the world.
How flexible and adaptable they will be.
Once the right partner is selected and everything is in place, life becomes a lot easier. Think of it as Netflix for product development. A contract is agreed to, and the work is delivered. Done. A good partner will also tell you how process can be improved or pinpoint efficiencies that can be added.
Who knows when the pandemic will truly end? But when it comes to certain business practices, it is essentially irrelevant. Change has transpired and reverting to old ways has become a high-risk endeavor. But don't worry, options are out there as long as you know what to look for.
To speak with a specialist regarding Validation as a Service, please contact Averna.
You may also be interested in…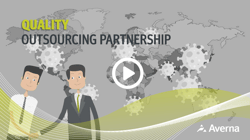 Averna is prepared to support your requirements all the way through. Find out what a Quality Outsourcing Partnership can offer your team!
Get in touch with our experts or navigate through our resource center.