R.I.P.-I.C.E: 1872 - 2030?

---
In 2021, planet Earth is truly at a tipping point. Sir David Attenbrough points out in his latest documentary that the world has been overrun by humans, to the detriment of nature. The consequence will not be the end of the world, as one might expect. The world has already faced 5 mass extinctions before today and will rebuild. Mankind, on the other hand, will not be so lucky. Sir Attenborough adds an important disclaimer, "If we act now, we can yet put it right."
So that is what we are trying to do, in more ways than one. Global communities are being formed and action is being taken to make a significant difference in climate change. One of these initiatives includes replacing the traditional combustion car with electric vehicles (EVs). But will it happen?
Out of Gas by 2030
Companies and countries are making new and accelerated commitments to make it happen. The United Kingdom released a new Green Plan to ban the sale of new Internal Combustion Engine (ICE) vehicles by 2030, including hybrids by 2035. Denmark followed suit and Norway is showing off by making it happen by 2025, less than 5 years from today. Germany provides an $11,000 subsidy to go green. These goals are in addition to the massive investments being made into expanded EV charging infrastructures, worldwide.
More and more companies are getting on board as well as countries. Businesses are facilitating and prioritizing EV parking and charging. The automotive industry is ramping up to help achieve these goals. By 2030 Volvo will be fully electric. Volkswagen recently announced their "accelerate" plan to increase its EV distribution to over 70% in Europe and 50% in the US and China in the same time period. General Motors is adding a multi-billion-dollar investment to its initial electrification plans.
What Does 2030 Have to Offer?
The year 2030 represents a lot. Environmentally speaking, 2030 is a deadline. Damage has been done to planet Earth, and if it is left much longer, it will be difficult to repair. Innovatively speaking, 2030 is simply practical. Technology is vastly improving, delivering better performance at lower prices. Over the last 10 years, lithium-ion battery prices fell by more than 87 percent. By all accounts, 2030 should be delivering EVs at the same price as ICE vehicles, with a solid infrastructure to back it up.
Is the Hot E.V. Completely Melting the I.C.E?
The combustion engine will not disappear, but its days are indeed numbered. EVs have many attributes, including the cool factor, but ICE is full of convenience. The globe is already covered in accessible gas stations. The average lifespan of a new fossil-fuel car is 10 years….and are often kept much longer. We will still be seeing the exhaust and hearing the engines roar for some time.
To completely end the ICE age, it will take time, but the wheels are in motion. In 2019 the global EV market was valued at over $162 million. By 2027 (so in less than a decade), it is projected to hit almost $803 million. This is an increase in market share by over 30% and strong indicator of the beginning of the end. It is a big change, but mankind will adapt. At least it will have to, if it is going to continue.
To learn how to accelerate EV manufacturing, please contact Averna.
You may also be interested in…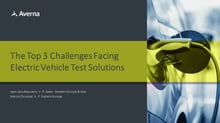 Did you miss our webinar on the challenges EV manufacturers are facing? Download it now to learn efficient solutions!
Get in touch with our experts or navigate through our resource center.