---
Software-defined instrumentation is the ultimate challenge resolver. The reason it is beloved by test engineers, is that it can face any task and change on a dime. With the always increasing complexity of devices in every industry and the need to decrease time to market, and flexibility is gold.
Of course, software-defined instruments cannot do everything all the time. Classic benchtop testers will not disappear. They are designed and built to deliver specific results, quickly. Generally speaking, these are single purpose instruments, optimized for one job delivering a higher performance for that job. As expected, it comes with expensive and particular hardware and the software that is installed on machine cannot be changed. Software-defined instrumentation hardware is pretty universal, making it broader. This allows the user to keep the same hardware over a long period of time and modify the software to accommodate new functionalities. This is an investment that grows with the device under test.
What's PXI Got to do With it?
The technology has been around for some time, but until the 1990s was relatively limited. It was then that NI (formerly National Instruments) led the PXI standard towards test. Today, PXI is the standard tool for data acquisition, test & measurement. PXI systems consist of three main components, a chassis, a controller, and swappable modules. The system's software is customized to the application and can be reconfigured over time. This major innovation in the field has led to a significant growth in software-defined testing within the industry. Today, the PXI is the most common platform used for this purpose with thousands of instruments being used in the field.
Don't get your Signals Crossed
RF testing is one of the fields that benefitted the most from this evolution in test. Dedicated call processing testers have generally been used in the past. These are a perfect example of an expensive solution with a single purpose. The field of RF affects every industry with a myriad of applications. RF testing must consider several facets of the unit under test. These can include output power, receiver and transmitter, sensitivity verification, and blocking.
Today it is rare for a device to perform a single task or leverage a single RF protocol. The obvious example is a cell phone>. This is an all-in-one portable office/entertainment system/lifeline/social platform. Protocol complexity keeps growing to offer more on the same bandwidth. Mankind has grown reliant on its purpose and speed. Everything we want comes to us courtesy of protocols like WIFI and LTE, so they need to work with the device in question. The ability to use flexible hardware and switch between one protocol to the next is a massive time and money saver.
The same can be said about infotainment testing. It is not like the good old days when a car radio had AM/FM and maybe a CD player. A single infotainment system leverages dozens of RF protocols between radio, video, connectivity and GNSS.
Additionally, these protocols change from country to county. Car manufacturers must comply with all of them to be in the game. Software-defined instruments like the AST-1000 use a flexible VST-based hardware setup and covers every aspect of RF signal generation. This allows the user to pick and choose only the RF protocols they require, with only one hardware investment. Protocols can be added as required by installing different software toolkits, including record and playback functionalities. By capturing actual signals, real-world impairments can be managed more accurately.
Flexibility Ignores Limits
The advantages of flexibility within the field of test engineering are too long to list. Every project has its own requirements, and every product has its growth lifespan. The ability to grow and modify equipment to line up with the product under test delivers results, saves countless man-hours and hundreds of thousands of dollars. Software-defined instrumentation is a sure way to keep a test investment around for the long haul.
To learn more about test instrumentation, please contact Averna.
You may also be interested in…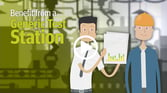 Looking for flexible test solutions? A common test core platform may be the answer!
Get in touch with our experts or navigate through our resource center.